UNMAPPED MABU, a site specific installation realized by Noumeda Carbone
Empty capsule art by Noumeda Carbone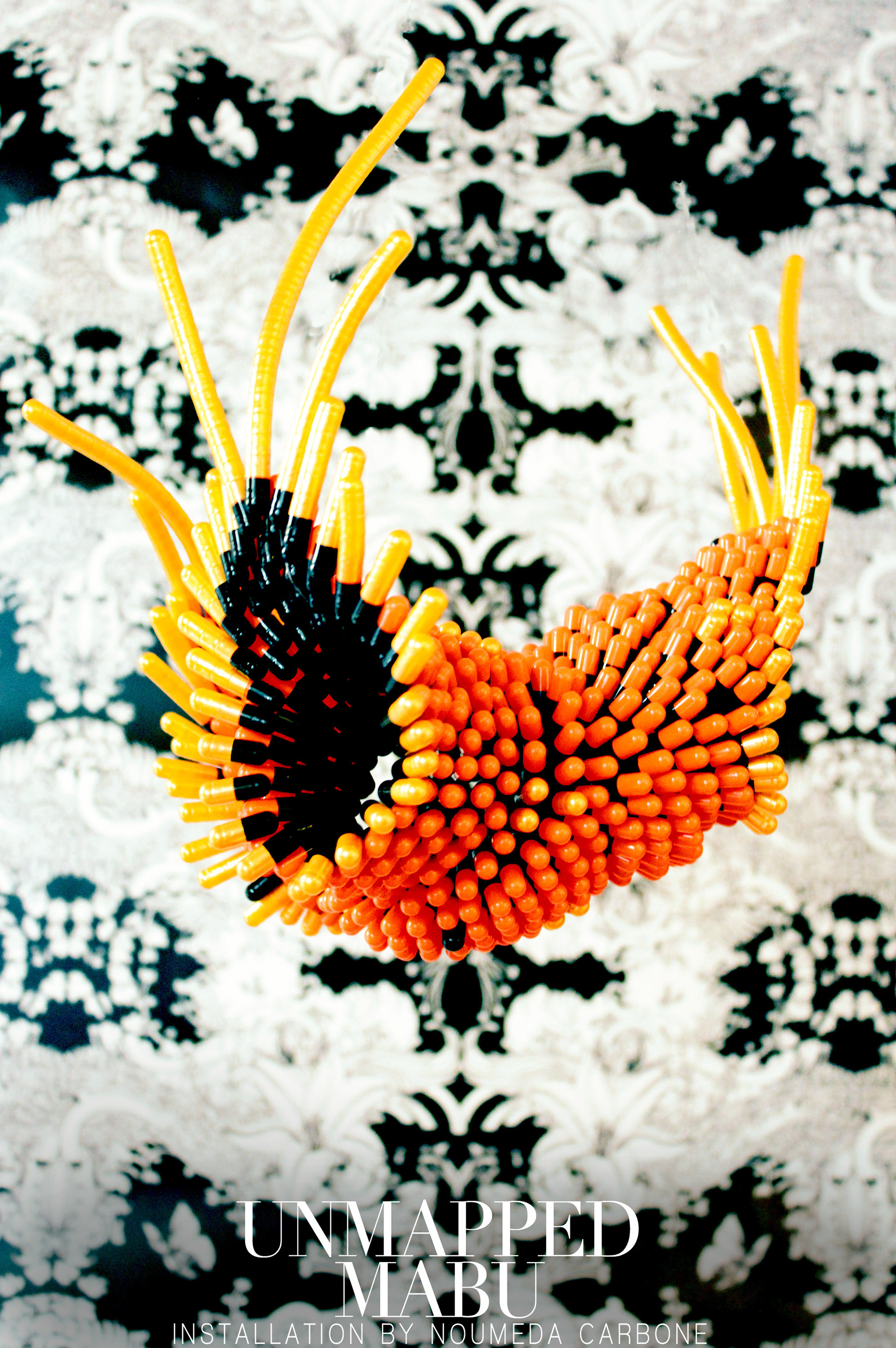 Arksign Studio di Architettura e Design is proud to present site specific installation realized by
Noumeda Carbone
Opening
19.06.2013 h 06.30 PM.
Exhibition:
20.06.2013 – 05.07 2013
from 10.00 AM to 07.00 PM.
Arksign Studio di Architettura e Design
Via dei PIlastri 10r, Firenze, Italy
"Disease by Noumeda Carbone is an art series of sculptures made out of empty pill capsules—9500 empty capsules, to be exact. Abstractly formed, each creation looks like some kind of disease rather than the cure they are supposed to be. They seem to suggest that taking medication can become a problem in and of itself. Even the colorful exterior attempts to hide the often dark truth of pill popping, which is symbolized by the black void inside. The French-Italian artist and freelance illustrator, who is based in Florence, Italy, writes, "I like the error, the small surprise between lines, the light." Disease by Noumeda Carbone can be considered a surprise, though perhaps not a happy one."
ARTISTA+FRANCESA+CRIA+ESCULTURAS+COM+CAPSULAS+DE+COMPRIMIDOS.html
A artista francesa Noumeda Carbone criou uma série esculturas produzidas com cápsulas de comprimidos. Intitulado de "Doença", o conjunto tem como objetivo representar diversos tipos de enfermidade através dos medicamentos que as combatem. Segundo a autora, o exterior colorido das obras representa um esconderijo para o interior negro referente ao crescimento de um sentimento de hipocondria na sociedade.
Com estúdio na cidade de Florença, na Itália, Carbone é especializada em trabalhos feitos com gravuras de caneta e tinta. O projeto atual é uma continuação de outra série, chamada "Doenças e Coisas Tristes", baseada em ilustrações sobre o mesmo tema.